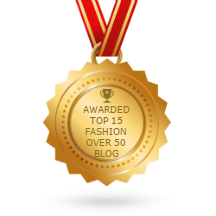 Best Fashion Over 50 Blogs On The Planet by FeedSpot
Selected as one of the "Lifestyle and Fashion Blogs to Follow" 2017 by Passion Fruit Paws and Peonies.
ADVERTISING CAMPAIGNS

Covered Perfectly, a fashion line for women over 40.
MAGAZINE PRESS & BLOG FEATURES
SHESPARK DIGITAL MAGAZINE
I was honored to be featured in the November issue of the digital magazine for women over 40, SheSpark.  SheSpark Interview Jonet Wooten
SheSpark Magazine also featured five of our She's Got Style global fashionistas in their November Issue!  Grace was even chosen as their cover girl!  SheSpark November Issue
The Editors of SheSpark had such a positive response from our She's Got Style fashionistas, they will be featuring one of our global style inspirational women each month!
VIBRANT NATION 
We made the cut and the kind folks over at Vibrant Nation include one of our blog posts Summer Fashion Must-Haves in their monthly Hello Vibrant Nation Newsletter!
Asked by the popular website Obsessory to write a post picking our top 5 must-have's in fashion. You can read all about it HERE.
OBSESSORY
I was asked to write a post by Obessory on my top 5 must-have fashion pieces.  You can read all about it HERE.
MENTORING
COLLEGE MENTORING
I am currently a College Student Mentor for students considering the Beauty Blogging industry with COLLEGE MENTORING